OTT is better than theater..!? top collections..!

300 to 500 crore collections are shown in a week. If there is a flop, the audience is going to OTT as per Plan. Do audiences prefer OTT over theatre? Where else is a great medium beyond OTT? Did the audience almost come to that expectation? That means yes the signals are coming. It is known how OTT has picked up in the time of COVID-19. Audiences are looking for all the entertainment they need in the OTT wallet PLATFORM' target='_blank' title='digital-Latest Updates, Photos, Videos are a click away, CLICK NOW'>digital media. OTTs who saw this as an opportunity announced offers upon offers and made people more accustomed to it. It is known that the scene has changed since then. All the small movies are in OTT.
 If the movies of top heroes get a hit talk, they go to the theater to watch them. It was in this sequence that the audience had to be baited by reducing the ticket prices to attract people to the theatres. Also, the Multiplex Association had to bring a day called National cinema Day. Although some of these efforts have been successful, it is a fact that the audience is not fully inclined toward theatre. In the case of small films, should the audience come to the theater? It should be a super hit.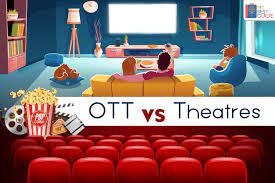 It should be strongly stated that there is no chance of entering OTT now. That is the situation when the audience comes to the theater and watches. Some of the content-based films that have been released in recent times have done well theatrically and that is the real reason behind it. If there are star hero movies, there will be openings anyway. If there is a hit talk, people will go to the theater anyway. They show collections of 300 to 500 crores in a week. If there is a flop, the audience is going to OTT as per Plan B. Movies on OTT Lately, many minor movies have been released in theaters.
మరింత సమాచారం తెలుసుకోండి: