Are you planning to prepare "Paal Kozhukattai" for Ganesha?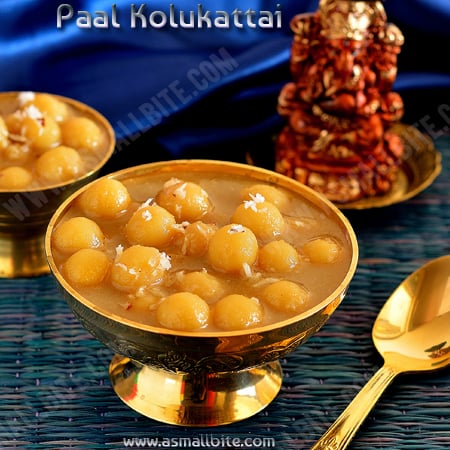 Lord Ganesha's birth is commemorated on Ganesh Chaturthi, also called Vinayaka Chaturthi. It is one of the festivals that is most widely observed in India, particularly in western Maharashtra. Countless delicacies are also made on this day to celebrate this auspicious occasion, which is observed with great enthusiasm. Paal Kolukattai, also known as Paal Kozhukattai, is one of these important delicacies. It also goes by the name Milk Kolukattai. During Ganesh Chaturthi, Paal Kozhukattai is served as prasadam or bhog. Let's look at the Paal Kozhukattai recipe.
Ingredients: 
1 cup of rice flour 
Half a cup of jaggery 
1/2 cup coconut milk 
Three tablespoons of ghee 
Making Paal Kozhukattai:
1. Combine the rice flour with the desired amount of water and knead it into a dough. Then set aside half of the rolled dough. 
2. The remaining flour should now be combined with two spoons of sugar and kneaded into a dough-like consistency. Then divide the dough into smaller pieces and shape each piece into a ball. 
3. Next, combine water and jaggery in a medium-sized pan and warm them over low heat. Until the jaggery is properly melted, continue to simmer and stir occasionally. Allow the mixture to cool for a while. As the mixture cools, the impurities will condense at the bottom of the pan. To get rid of the impurities, you can also sieve the mixture.
4. After that, put the rolled portions of the dough that were made in the recipe's second step into the pot and bring it to a boil. In 5 minutes, these portions will be cooked.
5. Stir together half of the jaggery mixture and the kneaded rice flour. 
6. After completing these steps, add ghee and cardamom powder to the mixture. On a low flame, boil it for 7 minutes or until it thickens and reaches the boiling point. It's time to serve your prasadam. When it has had a chance to cool for a few minutes, serve it.
మరింత సమాచారం తెలుసుకోండి: