Indian Embassy officials gave a befitting reply to Khalistanis...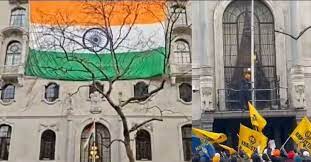 Khalistani separatists were furious when the police cracked down on Amritpal Singh in Punjab. Protesting against india on foreign soil. On sunday evening in london, Khalistani supporters ransacked the indian Embassy and tried to remove the tricolor hoisted above it. To which the indian Embassy officials gave a befitting reply by hoisting a huge tricolor on the High Commission building. A clear image of this has emerged. Which indians are proudly sharing on social media.
In this matter, india had lodged a strong protest with the british Government and questioned the lack of adequate security in the indian Embassy. Not only this, the british Ambassador in New delhi was summoned for this dastardly act by Khalistani separatists on the indian High Commission in London. After this britain increased the security around the indian High Commission and scotland Yard has arrested a person in this case. india has requested britain to arrest and prosecute those involved in this attack as soon as possible.
Following the incident, india summoned the most senior british diplomat in delhi and sought answers about the "lack of security" at the mission. Kwatra told reporters that the british Deputy High Commissioner was summoned and demanded that the culprits in the london incident be arrested and prosecuted soon.
మరింత సమాచారం తెలుసుకోండి: