Actor lost 26 kg by drinking 1 glass of milk..!?

Bollywood actor randeep hooda is playing the lead in Savarkar's biopic and has also turned director through the film. Actor randeep hooda has been acting in films with different storylines in Bollywood. A biopic on Veer Savarkar is currently being prepared in which he will act. randeep hooda is not only acting as the hero in this film but also as a director in this film.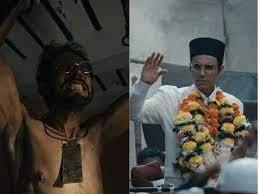 The official teaser and first look of Savarkar was released on May 28 on the occasion of Veer Savarkar Jayanti. Everyone was shocked to see Randeep Hooda's appearance in it. He had changed into a very thin look. During the four months, he acted in the film, he kept his body weight unchanged. While many people have been questioning how Randeep did it, the producer of the film has given an answer. According to producer anand Pandit, Randeep has lost 26 kg for the film. randeep hooda, who weighed 86 kg before the start of the film, later reduced his weight to 60 kg. anand Pandit said that he used to drink only one date and one glass of milk for four months to maintain his weight. Based on the life of Veer Savarkar, the film is slated to release at the end of 2023. Actor randeep hooda, who gave an interview to an english media, said that many heroes are responsible for our freedom. But not all of them are that popular. But there is a lot of wrong discussion about Savarkar. Tell people about them. He is very influential.
Savarkar was a revolutionary freedom fighter. He is regarded as one of the foremost pioneers of Hindu nationalist political theory. He was arrested in 1910 for his association with the revolutionary group india House. He said that all the events including the andaman and Nicobar Island jail and later being transferred to Ratnagiri will be in the film.

మరింత సమాచారం తెలుసుకోండి: