Shah Rukh Khan's Guinness World Record!!!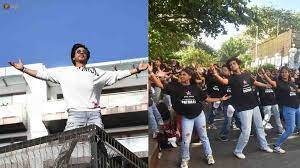 On Sunday, june 18, at 8 p.m. on Star gold, Shah Rukh Khan will make his television debut in the action-packed comedy Pathaan. A unique Guinness World Record was set when Shah Rukh Khan joined the celebration with hundreds of his fans outside the actor's lavish home in Mannat. A Guinness World Record for "the largest crowd performing the Shah Rukh Khan posture instantaneously was accomplished by Star gold (India) in Mumbai, Maharashtra, India, on june 10, 2023" was set on saturday when the superstar and some 300 of his fans took the iconic pose outside Mannat.
The representative exclaimed, "We are happy to have obtained this extraordinary Guinness World Record. The globe is aware of Shah Rukh Khan's ardent supporters and their passion, and their responses to our news of Pathaan's globe tv premiere on Sunday, june 18, 8 PM (IST) on Star gold have been tremendously favourable. In preparation for the film's release, they were eager to offer something unique.
Today's success goes beyond merely setting a record. It stands for the fervour and camaraderie of Shah Rukh Khan's fans. We at Star gold can be immensely proud of our achievement as the holders of this Guinness World Record, as can every Shah Rukh Khan fan in the entire world. We are honoured to have given Shah Rukh Khan and his followers a forum to communicate, he said.
మరింత సమాచారం తెలుసుకోండి: