Vijaykanth Hospitalized...Artificial respiration for him..?

DMDK chief Vijayakanth is being treated in the hospital for the 3rd consecutive day. DMDK chief Vijayakanth is being treated for the third day with artificial respiration from time to time. DMDK chief Vijayakanth was admitted as an in-patient at Nandambakkam Private Hospital in chennai last saturday night due to a persistent cough due to a chest cold.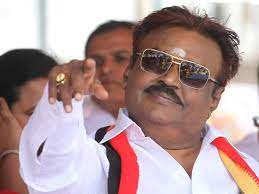 He is undergoing treatment for the third day in a row and is struggling from time to time due to irregular breathing. The hospital informed that artificial respiration is being given from time to time.
Mr. Vijayakanth had contracted the coronavirus infection 4 years before. He was reportedly diagnosed with the virus during a routine visit to MIOT Hospital. At this point, his symptoms were mild. Despite past illnesses, including kidney and liver problems, the experienced actor managed to recover from the infection. Vijayakanth had avoided the limelight due to  health issues. He was last seen in a police film titled Virudhagiri. In addition to starring in the 2010 film, he  also wrote and directed the film, which was clearly inspired by the hollywood hit "Taken." He then appeared in a cameo role in the 2015 film Sagaputam, where his son Shanmuga Pandian made his acting debut.


మరింత సమాచారం తెలుసుకోండి: