Telangana commemorates its 10th Formation Day on june 2, making it a historic day. Adding to the significance, on june 2, 2023, chief minister K Chandrashekhar Rao will become the telugu language's longest-serving chief minister, holding office for nine years straight.

Even throughout the hyderabad State and the once combined andhra pradesh, this record-breaking achievement outpaces the terms of any preceding telugu Chief Minister. Furthermore, chief minister K Chandrashekhar Rao is on the verge of breaking another record by becoming chief minister for three consecutive terms, a first in South india, as multiple polls forecast a resounding victory for the Bharat Rashtra Samithi (BRS) in the next assembly elections.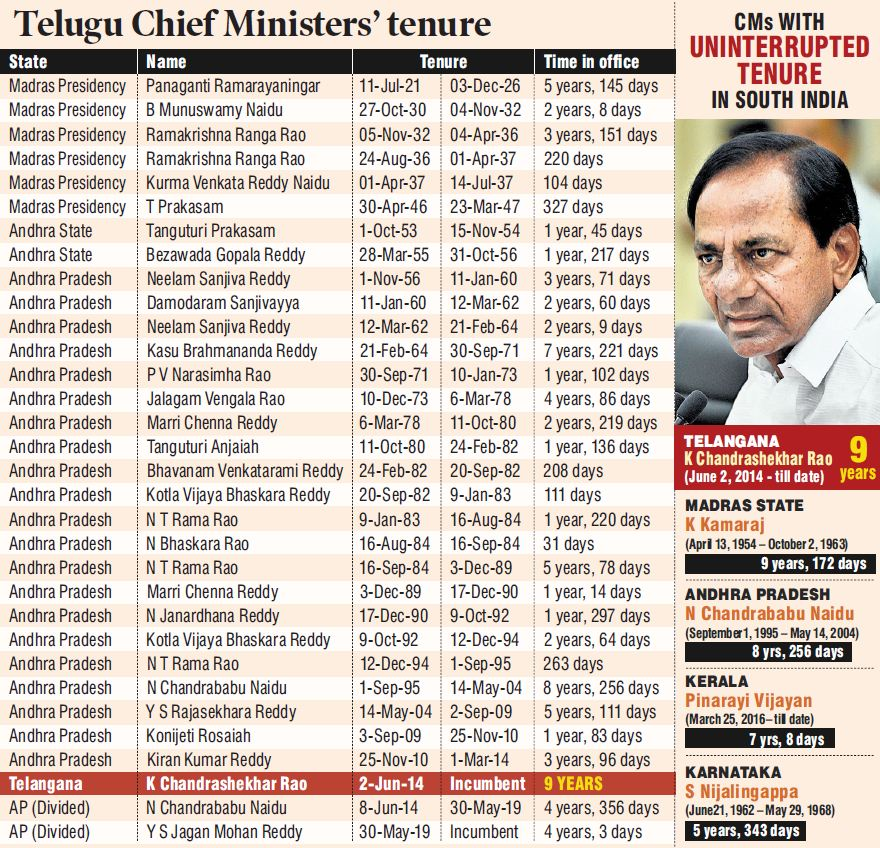 When considering the historical setting, tanguturi prakasam held the position of chief minister of the madras Presidency for 10 months. neelam sanjiva reddy served as the first chief minister for three years after andhra pradesh was united. Former Chief Ministers YS Rajasekhara reddy, Chandrababu Naidu, and Kasu Brahmananda reddy each held office for 5.3 years, 8.3 years, and 7.7 years, respectively. On june 2, 2023, chief minister K Chandrashekhar Rao would have served in that position for nine years. He took office on june 2, 2014.
Rao is also close to reaching yet another significant achievement. The longest-serving chief minister in South india is Kumaraswami Kamaraj, who led madras State for 9.5 years straight, from april 13, 1954, to october 2, 1963. Assuming there are no early elections and chief minister K Chandrashekhar Rao serves out his whole term, he will have 9.7 years of continuous service given the approaching State assembly elections in december of this year.

Notably, no party has held office for three terms in a row during the 58-year history of the combined Andhra Pradesh. A new record is likely to be set because the Bharat Rashtra Samithi (BRS) has a good chance of winning the 2019 assembly elections with a hat trick.

In terms of South india, karnataka was governed by the congress party in 1952, 1957, 1962, and 1967. Similar results were achieved in tamil Nadu, where it won in 1952, 1957, and 1962. However, because there wasn't a significant opposition party at the time, the situation was different. people had begun to trust the congress party to lead india towards independence.

Chief minister K Chandrashekhar Rao has become an unquestioned and powerful leader in the current political climate, which is unheard of. Chief Ministers YS Rajasekhara reddy and Kasu Brahmananda reddy represented national parties and were chosen by the congress party's high headquarters.

The telangana rashtra samithi (TRS), in contrast, was established by Chandrashekhar Rao in 2001 with the primary purpose of attaining statehood for telangana and guaranteeing irrigation water, employment, and adequate funding for developmental operations. telangana became a state on june 2, 2014, after encountering many obstacles.

Telangana has experienced rapid progress in all sectors under the direction of chief minister Chandrashekhar Rao. The State, once a region prone to drought, is now the second-largest paddy grower in the nation. Notably, the State successfully completed the kaleshwaram lift irrigation project, the largest of its type ever. telangana is the only State that offers farmers a free, continuous supply of electricity and water. telangana has been a leader in terms of per capita income and has become a model for other States. Leaders from all political parties have praised welfare initiatives like Rythu Bandhu, Rythu Bima, dharani portal, kcr Kits, Kalyana Lakshmi, and Dalit Bandhu.







మరింత సమాచారం తెలుసుకోండి: