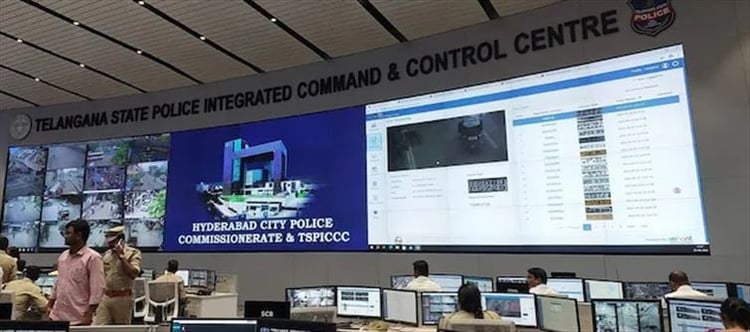 The new war room at Hyderabad's Integrated Command and Control Centre (ICCC) mimics the military command centre at the Pentagon in the united states since it has over 5 million cameras, a real-time traffic monitoring system, and a helicopter. Mahmood Ali, the telangana Home minister, officially opened the most modern ICCC in the nation today at the police commissionerate's headquarters in Hyderabad. In the case of a crisis, all operations may be managed centrally thanks to the room's cutting-edge amenities.
On top of the structure is a helipad where helicopters may land and take off in case of an emergency. It has a number of cutting-edge technological features, including a mechanism to manage a video surveillance system with more than 5 lakh cameras placed around the city. throughout the war room, a traffic monitoring system has been installed that allows for real-time tracking of vehicle movement throughout Hyderabad.

There is now a mechanism in place for weather forecasting that may send out early alerts for severe weather. There is also a system that can coordinate the response to crises like floods, fires, and earthquakes, taking disaster management to a new level. telangana chief minister K chandrasekhar Rao inaugurated the hyderabad ICCC in august last year.







మరింత సమాచారం తెలుసుకోండి: