Kohli is emotional about winning the World Cup..!?

 After the indian team won the Asia Cup for the 8th time, the fans started to believe that the indian players would fulfill their 12-year world cup dream. In this situation, only virat kohli, who took part in the 2011 world cup series, is playing in the current series. In this situation, he broke his silence about why the indian team was working so hard in this world cup series.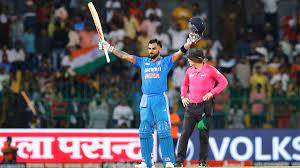 Talking about this, we have the desire to win this World Cup. The main reason for this is the endless support given to us by the fans. Your love for cricket is what keeps us going. Our victory in the 2011 world cup series is still in our minds. We are trying to make new memories now. I am happy that I have participated in this world cup as well. virat kohli said that we are ready to give everything we can to make our fans' dreams come true. Speaking further, Jadeja said, "When you have millions of fans supporting you, the inspiration you get as a cricketer is nowhere else. It's all about fans' nostalgia that we have to win this World Cup. As a nation, we are all going to join this journey of success. Jadeja said that we will definitely make the fans proud this time.
మరింత సమాచారం తెలుసుకోండి: