Disney Hotstar's new record..! So many people watched..!?

Leading OT platform Disney+ Plus Hotstar has set a new record. The India-Australia final match at the narendra modi Stadium in ahmedabad achieved a record viewership. How many people watched this match..? Popular OTT platform Disney plus Hotstar broke all previous records. During the ODI cricket world cup 2023 final match between india and australia on Sunday, Disney-Hotstar had a record viewership. A total of 59 million viewers watched. That is.. more than 5.9 crore people watched live on Disney Plus Hotstar simultaneously. Never before has such a large number of cricket matches been watched live on an OTT. This is high real-time views. This broke all previous records. However although the number of viewers increased at the beginning of the match, the number of viewers decreased as the match gradually turned in favor of Australia.

The live telecast of the ODI cricket world cup 2023 final match on DisneyPlus Hotstar recorded a record 5.9 crore viewers, the OTT platform said in a statement. With this record, the record of 5.3 crore viewers was broken in the semi-final match between india and New Zealand. On this occasion, Disney-Hotstar india Head Sajith Sivanandan said that 5.9 crore viewers watched the final match on Disney Plus Hotstar. This broke all the records. The unwavering support of indian cricket fans further inspires them to scale new heights in live sports streaming.

As part of the world cup, the final match between india and australia was held at the narendra modi Stadium in Ahmedabad. australia won the world cup for the sixth time by defeating india in this match. Australian captain Pat Cummins won the toss and elected to bowl. With this, Team india, who batted first, suffered a setback. Although Shubman Gill was out early. rohit sharma played an excellent innings. But he could not stay on the field for long. He scored 47 runs and reached the pavilion. After that, kohli (54) and KL rahul (66) got out. Gill, Shreyas, and Suryakumar raised their hands in the crucial match. With this, Team india collapsed to 240 runs.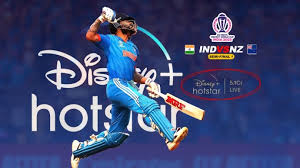 After that, the Aussie batters who came to the target faltered at first. With wickets of key players like Warner, Smith, and Marsh falling one after the other, the hopes of Team india fans rose. Everyone was fixated that the cup was ours this time. But, Aussie batters Head (141) and Labushanes (58) excelled with runs. The Aussies chased down the target by losing four wickets in just 43 overs.
With this victory, australia became world champions for the sixth time. At the same time, India's dream of winning the trophy for the third time was dashed. Despite winning 10 consecutive matches in the tournament, Rohit Sena fell behind in the 11th match. india suffered their second defeat in the final against Australia. Ricky Ponting's side last lost in 2003.


మరింత సమాచారం తెలుసుకోండి: