adnan sami kept the clothes of 'thin days' carefully, said- 'I believed to fit in them'
Recently, singer adnan sami has revealed that he used to be very thin in his teenage years. That's why he kept those clothes, because he believed that one day he would fit into them.
adnan sami kept the clothes of 'thin days' carefully, said- 'I believed to fit in them'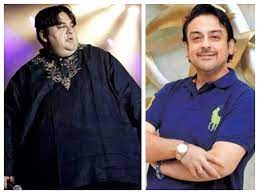 Apart from excellent singing, bollywood singer adnan sami is also known for his inspiring weight loss journey. Adnan used to be 230 kilos once, but he has lost more than 120 kilos. Recently, the singer has looked back on his days when he used to be very fit and slim in his teenage years.
Recently, in a conversation with 'Humans of Bombay', Adnan told that when he was 230 kilos, he was hopeful that he would get fit one day. That's why he kept his clothes from the days when he used to be thin. Talking about it, the singer said, "I was never 230kg my whole life. I was very fit and slim in my teenage years. I used to play rugby, squash. I was the squash champion of Abu Dhabi. I played polo, I also used to play horse riding, tent pegging. I gained weight much later, but my wardrobe was full of clothes from my 'skinny days'.
Further in his conversation he said, "One day my mother turned around and said, 'Listen, why don't you get rid of them? Skip these clothes, as they are taking up too much space. You can use these cupboards for something else.' I said, 'No, one day, I will definitely fit into these' and my mother said, 'Excuse me, wake up and have a coffee'." However, Adnan's mother advised him to buy new clothes after he became thin. But he was adamant on fitting into his old clothes.
adnan sami is now 75-80 kg. However, seeing his amazing transformation, people thought that he had undergone surgery. Clarifying on this, he had said in one of his old interviews, "People thought, 'He did surgery, liposuction,' but none of these surgeries were done." So include these 15 fruits in the diet, the effect will be visible in a week,
When Adnan's weight was too much, he could not even see his feet. The situation worsened when he had to undergo knee surgery for lymphedema. Because of this, he was suffering from physical and mental problems. Her weight loss journey has not been an easy one, which she told india Today was "a matter of life and death".
Adnan is a well-known singer of bollywood, who has sung many great songs. His hit list includes songs like 'Lift Karade', 'Alvida', 'Bhar Do Jholi', 'Tera Chehra', 'Sun Zara', 'Saathiya' and 'Bheegi Bheegi'.
మరింత సమాచారం తెలుసుకోండి: