An outpouring of humanity..! Young people to donate blood..!

288 people died within 15 minutes in the worst train accident in Odisha. Another 650 people were injured. A fatal train accident in Odisha's Balasore district on friday (June 2) has left the country reeling. But till now 288 people have lost their lives in this terrible accident. More than 650 other passengers were injured. Many of them seem to be in serious condition. The Coromandel Express, which was leaving Shalimar railway station in kolkata for Chennai, derailed in Odisha's Balasore district last night. As a result, the coaches derailed and fell on another nearby track. A few minutes later, a train going from Yeswantpur to Howrah and a freight train coming on the same route collided with the derailed coaches.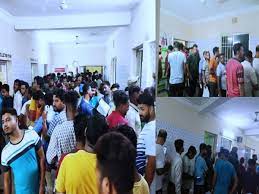 Since the accident was reported, national and state rescue teams have been continuing rescue operations to help the victims. All the injured were taken to local hospitals. Arrangements are also being made to send the deceased to their native villages if the details are found. However, hundreds of people are reaching the hospitals to donate blood to those who are being treated in the hospital for serious injuries. It's really heartening to see people coming to hospitals to donate blood before anyone asks. In this era where there are people who don't help even when asked. Comments are being made that humanity is out in Balasore.

Drone visuals of rescue operations going viral:
At present 14 units of NDRF teams and some SRDF teams are continuing the relief operations. More than 1200 personnel and 38 fire safety officers are participating in the rescue operations. The related drone visuals have also gone viral on social media. On the other hand, all activities have been canceled today as relief efforts continue. A day of mourning was declared. Similarly, President Draupadi Murmu, prime minister Modi, and Chief Ministers of various states have condoled those who lost their lives in the train accident.

10 lakhs to the families of the deceased and 2 lakhs to the injured. Also, the Ministry of Railways and the central government have announced compensation for the dead, seriously injured, and lightly injured. Union minister of Railways ashwini Vaishnav announced that Rs.10 lakhs will be given to the families of the deceased, Rs.2 lakhs to those seriously injured, and Rs.50,000 to those slightly injured. More than 30 trains running on the concerned route were canceled due to the train accident. Many trains were diverted. The Ministry of Railways has been directed to conduct a high-level inquiry into the train accident.
మరింత సమాచారం తెలుసుకోండి: