Are you going to buy gold? Changes from april 1..!?

Gold hallmarking is a certificate of its purity. The sale of hallmarked gold jewelry and gold artifacts without a six-digit alphanumeric HUID will not be allowed from april 1, the government said. The Ministry of Consumer Affairs, Food, and Public Distribution has issued an official statement in this regard and the decision has been taken to ensure a quality culture in micro vending units. The decision was taken after a review meeting of the Bureau of indian Standards (BIS) held on 3 march 2023 under the chairmanship of Union minister Piyush Goyal said that to promote quality culture in micro-scale units, it has been decided to provide 80 percent concession on BIS certification/minimum mark fee in various product certification schemes". Niti Khare, Additional Secretary, of the Department of Consumer Affairs, said that in the interest of consumers, it has been decided that after march 31, the sale of hallmarked gold jewelry and gold artifacts will not be allowed without HUID. Currently, four-digit and six-digit HUIDs are used, he said. He said that hallmarked gold jewelry is being sold across the country and even in those districts where it has not yet been made mandatory due to consumer demand for quality products.

Gold hallmarking is a certificate of purity of the metal. In the first phase, it was made mandatory in 256 districts and in the second phase 32 more districts were added, taking the total number to 288 districts. 51 more districts are added.

What is HUID (Hallmark Unique Identification)?

A Hallmark Unique Identification Number (HUID) is a six-digit alphanumeric code which consists of letters and numbers.
It was originally launched on July 1, 2021.
A HUID is assigned to each jewel at the time of hallmarking and is unique to each jewel.
 At the Assaying & Hallmarking Center (AHC), the jewelry is manually stamped with a unique number. In the meeting, Goyal directed BIS to increase testing infrastructure in the country.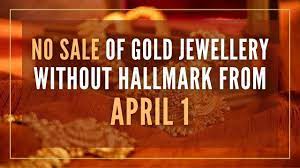 Before the introduction of the 6-digit alphanumeric HUID code, hallmarked jewelery had four marks – BIS mark, purity in carat and fineness for gold, assay center mark/number, and jeweler's mark/number. After the introduction of HUID, the four marks were replaced by three marks – the BIS mark, purity in carat, and fineness for gold, a six-digit alphanumeric code. HUID-based hallmarking offers customers a higher resale or exchange value of gold products as quality standardization leads to price parity. It also ensures the purity of the gold they buy.
మరింత సమాచారం తెలుసుకోండి: