KRK: KRK remembers sushant singh rajput and Boycott bollywood after seeing the wonderful collection of 'Drishyam 2'
Kamaal R Khan often declares bollywood movies as flops before their release and even before 'Drishyam 2' hit the theatres, KRK had predicted that ajay Devgan's film would also be a flop. Although after the collection of the film, KRK himself admitted that his prediction was wrong this time, despite this, he is continuously targeting 'Drishyam 2'. Once again he has tweeted about it and also reminded people to Boycott Bollywood.
Drishyam 2' was released in theaters on 18 november 2022. It is the second installment of 'Drishyam' released in the year 2015. In this suspense thriller film, it is shown that the case of Sam's disappearance has been re-opened again after seven years. Like the first part, people are liking this film too, but KRK is calling it a dry film, although these days he seems to be praising salman a lot.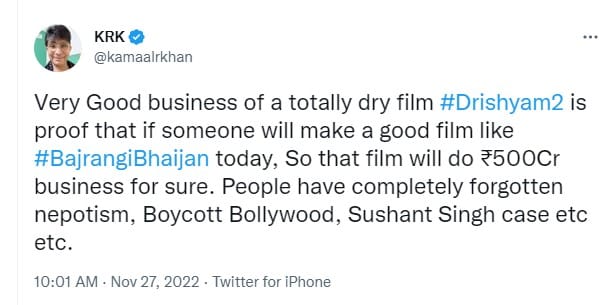 KRK wrote in his latest tweet- "The very good business of this completely dry film 'Drishyam 2' is a proof that if someone makes a good film like 'Bajrangi Bhaijaan', then that film will do 500 crores business, people have completely forgotten Nepotism, Boycott bollywood, sushant singh Case, etc".
Vijay Salgaonkar's story after seven years in 'Drishyam 2' is very much liked by the audience, it has again seen a jump in its earnings on the second saturday and the film has collected 15 crores on Saturday. So far the film's earnings have been Rs 127.53 crore.
మరింత సమాచారం తెలుసుకోండి: