Actress trusted a superstar & gone lost..!?

Many actors and actresses compete and fight to act in Superstar Rajini's films. To that extent, even if he appears in a small scene in the film he is acting in, the life of those actors will spring. To that extent, the value of the superstar is one of the highest in indian cinema. But Seyyar Balu has said in an interview that the life of an actress paired with a superstar has disappeared. Any actress who acts with the superstar will get the next film opportunities and a salary increase of crores.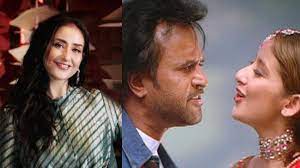 Because of this, if an opportunity comes to act in a superstar film, no matter how big the budget is, they will pass it on and get ready to act with Rajini. For example, actress Keerthy suresh turned down ponniyin selvan and acted in Rajinikanth's Annatthhe. Despite the failure of the film, Keerthy suresh is crawling with excitement as if the birth benefited. Similarly, when actress Shreya sharan didn't have a chance to make it in telugu and tamil, she played the role of Kutumba Kuthu Panna in Superstar's sivaji and continued to act with leading actors including Vijay and Vikram. Meanwhile, the bollywood actress has lost her life acting in the superstar's film. Rajinikanth's 2002 tamil film baba was a huge flop. The story of the film was created to convey the power of god baba in the Himalayas. bollywood actress manisha koirala, who acted opposite the superstar, will play Valam as his girlfriend in the film.
Having already acted in films like Multuvan with arjun and indian with Kamal, she got the chance to act in baba with Rajinikanth. But due to the failure of the film, manisha koirala not only lost her entire market but also became addicted to alcohol. She has openly stated in many interviews that she is lamenting why she committed to this film to date.

మరింత సమాచారం తెలుసుకోండి: