Trudeau govt. withholds information about killing of Nijjar..?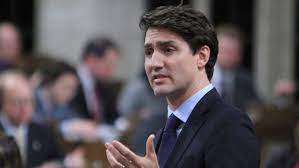 David Eby, the premier of Canada's british Columbia, stated on Friday, september 22, that the information learned about the killing of Khalistani terrorist Hardeep Singh Nijjar was accessible online. At a press conference, Eby declared that everything he knew about Nijjar's murder was public knowledge. "I have only been able to obtain open-source briefings from the Canadian Security Intelligence service (CSIS). I find it disappointing that this information is also accessible on the Internet," he said.
According to a report from News, Eby also stated that he has a strong suspicion that the Justin Trudeau-led administration is concealing information that could be used to secure crucial information regarding the killing of Khalistani terrorist Nijjar. The premier of british Columbia also claimed that Canadian prime minister Justin Trudeau had gotten in touch with him and informed him of the accusations he would make in Parliament.
Need to share adequate information
According to David Eby, the federal government must put its faith in the provincial government regarding this matter (information) and provide enough details about Nijjar's death to protect citizens. There must be a solution if there is a need. In his meeting with the CSIS director, David Eby said, "I expressed my frustration at our inability to obtain more specific information about this, and I have conveyed this to the government. I believe that in order for CSIS to share information, the legislation governing it may need to be changed.
మరింత సమాచారం తెలుసుకోండి: