Jasprit bumrah Injury: Career of bumrah might be over-P2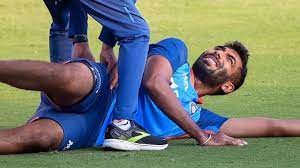 BCCI has given the responsibility to VVS Laxman
In the second week of January, when the bcci announced Jasprit Bumrah's sudden exclusion from the team during the series against Sri Lanka, it was described as a 'precautionary step'. It was said at that time that this veteran bowler needed some more time to regain his old bowling ability. Since then, not many updates have come out regarding Bumrah's fitness. According to the latest report of indian Express, BCCI's priority is to somehow fit bumrah till the ODI World Cup.
BCCI has entrusted this responsibility to former indian veteran cricketer VVS Laxman, who is also the head of BCCI's National cricket Academy. In the report, quoting a bcci insider, it has been said that not many people within the bcci are aware of the latest fitness status of Bumrah. Only a few top officials are getting his report. Laxman is talking to bumrah and the physio working on his fitness. Even the selection committee has been notified that they will be updated as soon as possible on Bumrah's actual injury and his recovery. 
Bumrah's back is in critical condition
A source told The indian Express, Bumrah's back is currently in a very critical condition. Last time Bumrah's return was in a hurry. Since then he has not been fully fit. He was not feeling well while bowling on his return. This time we are focusing more on the fact that one wrong call can lead to his career-ending injury.
Team india is struggling with the injury of veterans
At present, the indian cricket team is struggling with the injury of not only bumrah but many important players. rishabh pant has been out for a long time after the accident. shreyas iyer and fast bowler deepak chahar are sitting injured. Chahar has stayed away from many matches of Team india due to injury. Iyer also has a back injury.
మరింత సమాచారం తెలుసుకోండి: