Shocking murder case: Man stabs minor girl 20 times.??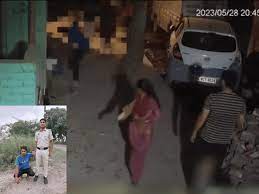 A guy has been detained for reportedly stabbing a 16-year-old girl over 20 times on sunday night in Delhi's Shahbad Dairy neighbourhood. The accused was taken into custody from Bulandshahr, according to delhi Police. The accused, Sahil (20), stabbed the girl, kicked her repeatedly, picked up a cement block, and then beat her. Locals and neighbours were passing through the lane repeatedly while this was happening.
Social media users have been sharing CCTV footage of the event, which clearly shows the perpetrator beating the victim repeatedly.
In the footage, it can be seen that he pauses for a short while before coming back and grabbing a cement block to hit her. According to the police, they got a call roughly 30 to 35 minutes after the incident. "When the deceased headed out for a friend's son's birthday party, Sahil saw her and attacked her by stabbing her multiple times and throwing a stone at her. Sahil is evading capture, and searches are being conducted to find him. On the basis of the father of the deceased's allegation, a murder case has been opened at the Shahbad Dairy police station, said the DCP. Arvind Kejriwal, the chief minister of delhi, lamented the incident at the time.
మరింత సమాచారం తెలుసుకోండి: