Vijay's daughter graduated from school..!?

As Thalapathy Vijay's daughter divya Shasha completes her schooling, a video of Jason Sanjay garlanding her and congratulating her is going viral on social media. Thalapathy Vijay is the highest-grossing king of tamil cinema. It is the dream of many directors to work with him in at least one film. Similarly, many young actresses have openly said that they want to act in at least one movie with Vijay. Currently, Vijay lokesh kanagaraj is directing '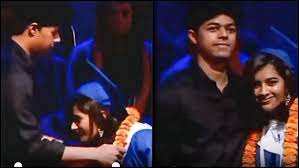 Leo', which is expected to release on Diwali. Following this film, Vijay is going to do his 68th film under the direction of famous director Venkat Prabhu. Recently, the official information about the film was released and Vijay fans were extremely happy. While yuvan shankar raja is set to compose the music for Vijay's next film, Kalpathi Agoram is set to produce. Also, while Keerthy Shetty is said to be playing the heroine in the film, the details of the technicians are expected to be revealed soon. Usually, Vijay fans go viral on social media whenever any news about Thalapathy Vijay is released, so when news about his children Jason Sanjay and divya Shasha is released..?. In this case, Vijay's daughter divya Shasha has completed her schooling this year, and a graduation ceremony was held for her in the school where she is studying. In this, Divya's brother Jason Sanjay garlanded his younger sister and expressed his wishes. A video taken when Jason Sanjay participated in a program at a school function is now going viral on social media. Jason Sanjay is currently studying cinema in canada and has directed some short films. And despite the efforts of some leading directors to cast him, Jason Sanjay is said to have turned down all the opportunities as he was more interested in film direction than acting. And since his studies are over this year, it is said that he will focus on directing films when he returns to India.


As divya Sasha has also completed her schooling this year, it is said that she is going to continue her studies in canada like her brother. It is said that Sangeeta has already applied to her daughter in a few colleges for this. As divya has already acted in the film Theri with her father Vijay, will she choose a course related to the cinema? Or let's wait and see what kind of field he chooses.



మరింత సమాచారం తెలుసుకోండి: