Odisha train Accident: YouTuber Raises Rs 13 Lakhs...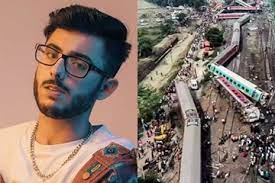 CarryMinati, is a well-known YouTuber and significant gaming influencer. On saturday night, he organised a four-hour charity stream on his channel CarryisLive for the odisha train tragedy victims. One of the largest rail accidents in recent years occurred on friday as a consequence of the collision of three trains. CarryMinati sponsored a livestream to gather money for the Chief Minister's Relief Fund-Government of odisha when the death toll approached 280.
The webcast produced Rs 11,87,612 and Minati personally gave 1.5 lakhs, it has been disclosed. It's absolutely heart-breaking to watch these distressing sights, CarryMinati stated in reference to the accident and the charity. Every person impacted by this tragic event is in my thoughts and prayers. I send my sincere condolences to the bereaved families and offer my prayers for the injured to recover quickly. In times like these, we all need to band together and strive towards the shared objective of providing humanitarian support for one another. I'm appreciative of everyone who came together to show their unity and support for this noble cause.
The internet celebrity has previously sponsored a similar fundraiser. He previously presented a similar charity stream for the regions of assam and bihar that had been devastated by floods in 2020. At the time, he raised Rs 12 lakhs, which included a Rs 1 lakh payment from Minati personally. He also contributed to the relief efforts for the following disasters: the kerala Floods in 2018, the Shaheeds of the Pulwama Attack, the odisha Cyclone Fani in 2019, the australia Bush Fire, the assam Floods, the bihar Floods, and COVID'19 in 2020, and the assam Floods in 2022.
మరింత సమాచారం తెలుసుకోండి: