Is Vijay's Leo an LCU film or not? Suspense is broken..!?

It has been reported that Vijay's Leo is a part of LCU (Lokesh Cinematic Universe). lokesh Kanagaraj-Vijay's Leo is one of the most anticipated films of 2023. After the massive success of Master, actor Vijay has teamed up with lokesh kanagaraj for the second time. It is said that anurag kashyap will play a special role in the film. With the film set to hit the theaters on october 19, the anticipation for Leo is increasing day by day. It is also said that the film Leo was a Lokesh's cinematic universe.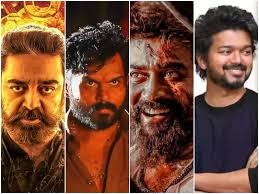 However, there is no official announcement in this regard. In this context, it has been reported that Vijay's Leo is a part of LCU (Lokesh Cinematic Universe). The reports also suggest that Leo, produced by lokesh through Kaithi, Vikram, is currently the 3rd film in LCU. The cinematic universe that lokesh created with his films Kaithi and Vikram, is now said to be the third installment of Leo joining LCU. According to sources close to the team, Leo is set to create one of the biggest cinematic moments in the history of tamil cinema with lokesh Vijay.
But there is no official announcement about this yet. But if Leo is a part of LCU, the question is whether we will see Kamal Haasan, Vijay, Suriya, Karthi, and Fahad Faasil back together on screen anytime soon. But only time will tell. Meanwhile, speaking at a recent event, actor Suriya confirmed that a standalone film called Rolex is in the works. He also mentioned that director lokesh is expected to start work after the release of Leo. However, there is no official word from the director regarding this yet. Meanwhile, lokesh kanagaraj is set to direct his next film with superstar Rajinikanth. Produced by sun Pictures, the film has been tentatively titled leader 171. lokesh has started work on this film now. There are reports that Thaalaivar 171 will be a standalone film and will not be a part of lokesh Cinematic Universe.
మరింత సమాచారం తెలుసుకోండి: