Actor kota srinivasa rao died..? Rumor spread like fire..?

Kota Srinivasa Rao, famous for acting in more than 200 films in the telugu film industry, has put an end to the news by posting a video on the social networking site. Legendary actor kota srinivasa rao is popular as a leading character actor and villain actor in the telugu film industry. So far in more than 200 films, he has acted as a villain to the leading actors, as a father, and as a grandfather to the growing young heroes. He was in the tamil fans' hearts in his first step, playing the role of Perumal Pichai in the 2003 tamil film 'Swami' starring vikram and directed by Hari. The film was followed by Kuthu, jai Surya, Tirupachi, Paramasivan, Vijay, Ajith, and other leading actors as villains.

He last acted in the tamil film 'Kathaadi' in 2018. Similarly, he acted only in a small role in the telugu film 'Hero' released last year. An 80-year-old man was living in hyderabad with his family when he suddenly developed a health problem and died after being admitted to the hospital. While this information has caused a huge shock in the telugu film industry, actor kota srinivasa rao has put an end to this rumor by posting a video on his social media page. Regarding this, he said in his video that he is in good health. He has requested the fans not to believe such rumors. After this, the fans are relieved.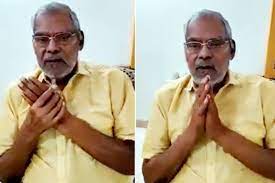 After acting, kota srinivasa rao also ventured into politics. He has also served as a member of the Legislative assembly in vijayawada East. And in honor of him, the central government awarded him the padma shri in 2015. It is noteworthy that till now he has received Nandi Award nine times, Saima Award for Best Character Actor, and Allu Ramalingam Award.

మరింత సమాచారం తెలుసుకోండి: