What happened to Ajith's father..? How did he die suddenly?

Actor ajith along with his brothers Anup Kumar and Anil Kumar has released a heartfelt statement on the death of their father. Actor Ajith's father P Subramaniam passed away today. Actor ajith and his brothers have issued a joint statement about the death of their father. It is mentioned that their father Mr.Mani (85 years old) was bedridden for many days. He passed away during his sleep today early this morning. They are indebted to all the doctors who have supported their family with love and care for their father who was suffering from a stroke for the past four years.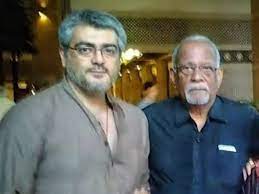 Our father lived a good life with the love and dedication of their mother for about sixty years. In this time of grief, many people have called them on the phone, or mobile or texted them to inquire about the news of their father's death and to console their families.

They hope that they will understand their inability to answer the call or reply in the current environment. Funerals of their fathers should be a family affair. They consider Therefore, they pray that all who know the news of this death understand their grief and loss and cooperate with the family to observe the mourning and carry out the last rites privately, the statement said.

మరింత సమాచారం తెలుసుకోండి: