RRR record will disappear due to Adipurush..!?

Young rebel star prabhas has been moving forward by acting in consecutive big-budget films since becoming a Pan india star. He has already acted in many films like this. Now he acted in a film called 'Adipurush' in bollywood alone. Produced by Om Raut, the film opens with the backdrop of Ramayana. This has created expectations. The multi-starrer 'Adipurush' is releasing on june 16 in most theaters across the world. That's why now the film unit is busy with movie promotion activities. It is planning to make this film more accessible to the audience through these. This movie seems to be rushed for a few days.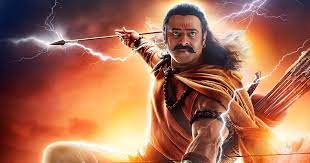 As the time for the release of 'Adipurush' starring young rebel star prabhas is nearing, trade analysts have just started making predictions about the film's openings. Calculations are being made on how many crores this film is likely to earn, especially in the hindi belt. In this order, a new topic is being highlighted.
B-town trade pundits predict that the 'Adipurush' movie coming in a crazy combination is likely to break the rrr record in hindi on the first day. The film opened there on its first day at Rs. 19 crore net collection. It is said that there is a possibility of more than 20 crore net. If this happens the rrr record will disappear. Moreover, many people are expressing various opinions about the collections of 'Adipurush' in telugu states including overseas. Even though there is a lot of time for the release of this movie, it is becoming a hot topic across the country. Meanwhile, this film is being released in hindi by AA Films and People's media Factory in telugu states.

మరింత సమాచారం తెలుసుకోండి: