There is no buzz about 'Adipurush'..!?

It is known that prabhas craze changed after Bahubali. If his films are coming, there will be a nationwide craze. prabhas range changed after bahubali directed by Jakkanna. After that, there was a huge buzz about the saaho movie. But the movie flopped at the box office. He took a gap of a few years and came back with a love story called Radeshyam. Even before the release of this movie, there was a lot of buzz. But even this did not hold up at the box office. Now again prabhas is ready to entertain the audience with the movie Adipurush. The promotions of this movie started in the background of its release on june 16. But it must be said that there is no buzz among the audience about this movie. The movie Adipurush has had difficulties from the very beginning.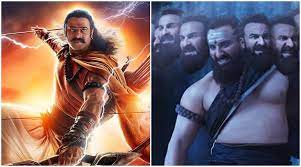 The audience who saw the first released teaser... trolled saying it was a children's movie. Even after completing the graphic work again...that negative mark is still not gone. The posters released in the middle were also subjected to trolling. They trolled saying that the old Sri Rama photo had been re-edited and sent. However, although the recently released teaser songs are a bit of a plus, there is not much buzz about this movie. Analysts say that although there are still 10 days left before the release of this film... it has not gone to the masses. A pre-release event has been organized for tomorrow. It is expected that this will be a plus for the film.

మరింత సమాచారం తెలుసుకోండి: