Leading company acquired the OTT rights of 'The Legend'!

The movie 'The Legend', starring the famous businessman Saravana Stores Annachi, was released in theaters last July and received mixed reviews. It is reported that a leading company has bought the OTT rights to the film. In that way, the film 'The Legend', directed by JD and Jerry, the duo who directed his advertisements, was based on the creative concept. legend Saravanan played the role of a scientist in this film. Famous bollywood actress urvashi rautela acted opposite him. Also, Robo Shankar, Devadarshini, etc. acted in this film. It is especially noteworthy that this is the last film of actor Vivek. In this case, while the legend Saravanan produced and acted in this film, it was said that he did not offer to sell the OTT rights of this film to any company.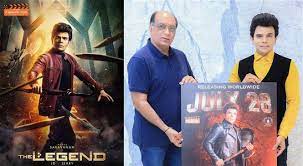 But while his fans have been continuously questioning the OTT release of 'The Legend', it is said that a popular OTT company has acquired the streaming rights of this film. According to the current information, 'Disney Hot Star' has acquired the rights to 'The Legend'. So it is said that the release date of this film will be announced soon.
And the legend Saravanan is said to be acting in a film next. Even recently, famous director Sundar C has met Saravanan Arul, and it is said that there are many chances to act in his direction, will there be any announcements about the next film soon? Let's wait and see.
మరింత సమాచారం తెలుసుకోండి: