Amritpal Singh masking in 'dera'? Khalistani roaming free...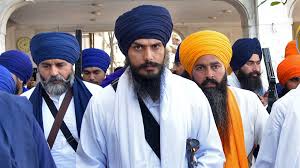 Amritpal Singh, who became the sole contractor of the Khalistan movement in punjab, has many shelters. Waris Panjad Chief Amritpal is changing the location every day. police suspect that he is now roaming in Hoshiarpur district. The police is raiding the camps of Hoshiarpur.
According to the police, this is the same place where Amritpal Singh dropped the car and fled on the bike. In such a situation, police personnel are searching at all possible places. Amritpal Singh has increased his stature so much that now he cannot hide anywhere. His arrest is certain.
It has been claimed in different media reports that Pappal Preet Singh, mentor and social media manager of Amritpal Singh, is no longer with him. Both are hiding at different places. On march 28, when both of them left the Innova SUV going from Phagwara to Hoshiarpur, their paths diverged. 
How many places are there for Amritpal?
Punjab police is in action against Amritpal Singh since march 18. Activists of Waris punjab De are on the target of the police. Amritpal is coming in front of the world only through video and audio in the last three days. He hasn't appeared anywhere. It seems that Dera is saving Amritpal Singh.
మరింత సమాచారం తెలుసుకోండి: