On june 9, in Mancherial, chief minister K Chandrashekhar Rao will introduce the much anticipated programme, which would give artists and craftsmen from underprivileged sections financial help of Rs 1 lakh. He will also personally hand over beneficiary checks. The necessary rules for identifying qualified craftsmen have been released, and all district collectors have been ordered to ground at least 50 units on Samkshema Dinotsavam (Welfare Day), which will be observed as part of the decade-long festivities of telangana State establishment.

In a video conference with all district Collectors, bc Welfare minister Gangula kamalakar and Finance minister T harish rao provided all the guidance needed to properly execute the event. The financial aid, which will be given to the craftsmen without any bank connections, is intended to promote their socioeconomic growth. The officials were warned to be on the lookout and take all necessary precautions to prevent scheme abuse.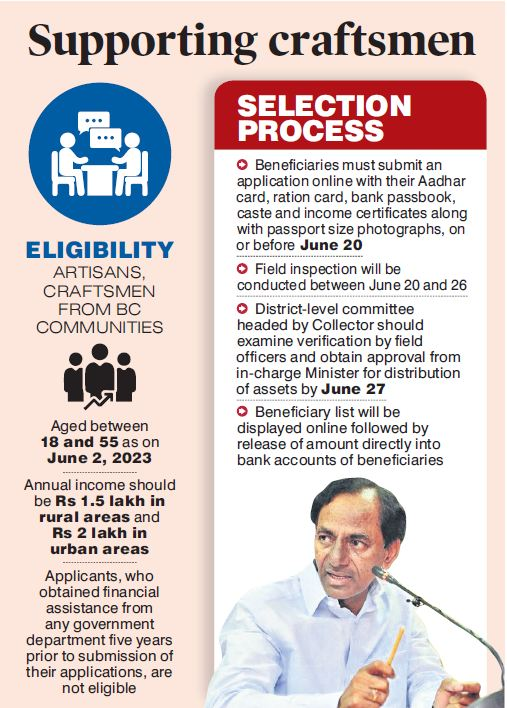 According to Kamalakar, the new plan will be an ongoing one, with recipients being named and receiving checks from the relevant MLAs on the 15th of each month.

The MLAs will hand out the checks to the recipients in their respective constituencies on june 9 at the official opening day. To guarantee openness, he stressed that the approved web gateway will accept applications from eligible people. The State government will supervise the beneficiaries for a period of two years to ensure that they have a sustainable means of subsistence in addition to supplying the craftsmen under the plan with the required equipment and raw materials.

In order to prevent money from being misappropriated, harish rao, who took part in the video conference from Sangareddy, urged the district collectors to use extreme caution when identifying the poorest of the poor artisans. According to him, the district minister in charge should provide his or her consent before the recipients are announced. In order to properly organise the initiative, he stressed, local public representatives should be involved.
Harish Rao also reviewed the plans for the june 14 health Day celebrations and requested that district collectors select at least 15 women in each constituency who would get kcr Nutrition Kits as part of the festivities. Additionally, the collectors were instructed to organise the distribution of sarees and bp checking equipment to ANMs and ASHA employees.

Medical practitioners will get merit certificates on the same day in five categories. The prize recipients' identification should be finished by the collectors. The initiative will be effectively carried out with the assistance of public leaders and students from medical and nursing schools. The project should encourage patients who have received treatment for Kanti Velugu, dialysis, and other conditions to share their experiences.






మరింత సమాచారం తెలుసుకోండి: