This is happening like IPL 2021..? Will CSK win the title?

Chennai Super Kings lost to gujarat Titans in the first match of IPL 2023. As a result, CSK fans who expected to win the title this time were very disappointed. And CSK's bowling is also a matter of concern. However, one good thing about this is that some of the foreign players on CSK's team are yet to make it to the IPL series. After their arrival, CSK is expected to reach full strength. And this time, 7 matches are being played at Chennai's spin-friendly Chepakkam ground. In this, even if CSK wins at least 5 matches, it will be seen as a big plus. CSK fans should not lose hope because of this. There's one more thing to cheer you up. It has been revealed that the beginning of this season is like the script of 2021 when CSK won the title of champion.

In 2020, CSK won the title of champion after the chennai team suffered a crushing defeat in 2021. However, in the first match of the 2021 season, CSK lost to Delhi. CSK, who played badly in 2022, lost their first match in 2023 as well. Thus it is expected that the CSK team will win the title this time. chennai team is currently facing lucknow in their 2nd league match. They revealed to the fans yesterday that the lucknow team is strong in batting and bowling.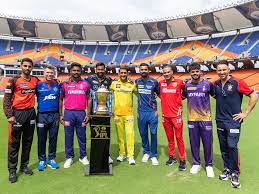 This raises the question of whether CSK can handle the lucknow force. According to the script in 2021, it is noteworthy that the CSK team won their 2nd league match.
మరింత సమాచారం తెలుసుకోండి: