Ekta Kapoor Birthday: Due to this condition of father jeetendra, Ekta's house could not be settled, this disclosure will surprise you
Ekta Kapoor Happy Birthday: ekta kapoor herself revealed why she has not married till date. Explaining the reason behind this, he narrated an anecdote related to father Jeetendra.

Ekta Kapoor (), who is called the queen of the industry from tv to Bollywood, is celebrating her 48th birthday today. On this special occasion, he is getting many congratulations. Along with the fans, many celebrities are also seen wishing him through social media. While wishing ekta kapoor on her birthday, fans are still asking her the same question, why is she not married yet? However, ekta kapoor has already answered this question. He attributed this to a condition of father Jeetendra.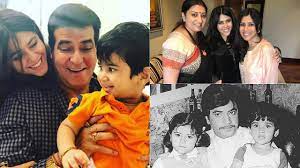 Ekta Kapoor , the creative head and managing director of balaji Telefilms Limited, has achieved many achievements in her career. He has also won the padma shri award, but he is often asked questions about not getting married in his personal life. ekta spoke openly on this question during an interview. When ekta was asked when will she finally get married, she jokingly said that 'when salman khan will do it'. After this, he told a condition of his father as the reason for not getting married.


Ekta told that once when she was thinking about marriage and talked to her father about it, jeetendra put a condition in front of her daughter and said- 'You will have to get married or you will have to concentrate on work'. ekta tells that after hearing this, she chose her career and did not get married. ekta says that she is still waiting for the right partner. Please tell that ekta has become the mother of a son through IVF. She has named her son Ravi, with whom she is often seen sharing pictures and videos.

మరింత సమాచారం తెలుసుకోండి: