Sai Pallavi about taking a break from movies..!?

Sai Pallavi is one of the rarest and best heroines tollywood has ever seen. She has a huge fan craze. If there is sai pallavi, then the movie will be a hit among the people. There are people who watch movies just for her. That is why she was also given the title of Lady Power Star. So she doesn't do anything like exposing in short dresses like all other heroines. She gained this craze just through her acting and dancing roles.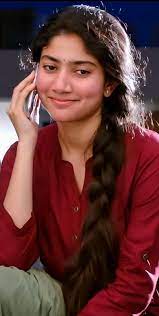 But lately, sai pallavi is not seen in Tollywood. After films like Virata Parvam, and Gargi, she has not done a single telugu film. This made the fans very worried. They thought why sai pallavi is not being taken as the heroine. But she informed the truth about it. She said that she did not get any gaps from movies. She said that it was not because of a lack of opportunities that she decided to take a gap for a while. She said that no film agreed to take a break from shooting for a few days.
Sai Pallavi does not accept every offer. She does not readily accept roles in ordinary commercial films, especially those where she only dances next to the hero. She chooses only those that are important to her and the actor. It seems that she has not accepted any new film due to not finding the right role. sai pallavi would have had many films in her career if she had been an actress who accepted commercial films. But she chooses the movie thinking about the importance of her role along with the story of the movie. That's why it seems to be delayed.
Fans are saddened that she has not been seen on screen for a long time. But soon she greeted the audience with a movie. siva karthikeyan is playing the heroine in the upcoming movie produced by tamilnadu Kamal Haasan. Recently, the film started with pooja activities. It seems that her character will be very different in this movie.

మరింత సమాచారం తెలుసుకోండి: