Dancer Gautami Patil's application of sindoor raised questions after MMS leak, people were surprised to see the video
Gautami Patil was in headlines due to MMS leak. At the same time, now she has come in headlines because of her new instagram Reel.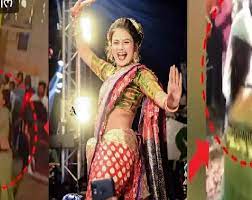 Renowned stage performer Gautami Patil is seen performing Lavani dance on Marathi songs at many events. Along with her talent, she remains in headlines because of controversies. In the past, a shocking MMS of Gautami (Gautami Patil MMS) was leaked. It was told in media reports that when Gautami was changing clothes backstage at an event, only then someone had made her video. At the same time, when Gautami was seen wearing vermilion in a video, there was a stir on the internet. Many people are asking him questions.


Gautami Patil has shared a video on her instagram account, in this video Gautami is seen flaunting her stylish look. In the video, she is seen wearing a white saree and red blouse. The video begins with Gautami showing 'Sabse Kaatil, Gautami Patil' written on her blouse. After this she faces the camera and her makeup is visible. Gautami is seen wearing vermilion in this video. watch here this video of Gautami going viral-

Seeing this video, Gautami's fans are seen tying praises but she has also become a troll. Many people are questioning his applying vermilion. One user wrote 'Have you got married'. Another asked 'Why have you applied vermilion'. Gautami gives dance performance on big events at different places of maharashtra and hundreds of people gather to see her. Gautami also has a good fan following on social media.

మరింత సమాచారం తెలుసుకోండి: