Whoa!Allu arjun confesses about his First Relationship!!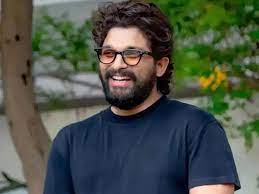 Allu arjun, a well-known telugu actor, has been happily wed to sneha reddy since 2011. The couple has two children together: son allu ayaan and daughter Allu Arha. However, the pushpa 2 actor admitted he had a relationship before he wed Sneha. When he arrived at the indian idol telugu season 2 finals programme, the actor made the unexpected revelation. allu arjun was heard disclosing an intriguing tidbit about his first love in a video clip from the season finale that surfaced online.
Allu arjun could be heard appreciating the performance of a competitor named sruthi Nanduri from New jersey in the video that the programme posted on Instagram. After her performance, allu arjun said that in addition to enjoying it, the mere mention of her name brought back some memories for him. allu arjun admitted openly that his first girlfriend's name is the contestant's name as well.
He said, "I like your name because it's the same as my first girlfriend." Cheers greeted the revelation before Geeta madhuri made fun of him for it. view the video here:
The full telugu indian idol 2 finale show will air this weekend on june 2 and 3. The other finalists are jayaram from Hyderabad, Lasya priya from Siddipet, karthikeya from Hyderabad, and Sowjanya from Vishakapatnam, in addition to Sruthi. music director SS Thamn, vocalists Karthik, geetha Madhuri, and Hemachandra, who also serves as a mentor, serve as the reality show's judges.
మరింత సమాచారం తెలుసుకోండి: