Adipurush crew - Why not to believe religious propaganda..?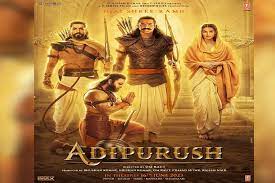 One of the most eagerly awaited high-profile films is Om Raut's Aadipurush. kriti sanon plays the character of Sita in the movie while prabhas plays the role of Ram. This film was funded by abhishek Aggarwal. Adipurush is causing a stir across the nation. Currently, a few religious rumours are rampant concerning this movie and are igniting debates.
Recent events have cast Aadipurush, which is set to release on june 16, into controversy. Fans of prabhas became much more enthusiastic after yesterday's pre-release celebration in Tirupati. But shortly after, the film's director, Om Raut, made headlines when he kissed the lead actress, Kriti Sanon, on tirumala Hill. Another false report is currently making the rounds. They created a chasm between castes and religions in that false statement. The location of the Ramayana recital should, in our opinion, be hallowed, said a poster that was published. Adipurush, starring prabhas as Ram, is currently playing in theatres, but Dalits are not permitted due to respect for this belief.
Another fictitious poster that urges all Hindus to watch the ambitiously constructed Dharma-centered film Adipurush has also been produced. The Dalit communities were incensed as soon as these posters went viral. The Adipurush film crew, knowing this, responded, though. They said that they had not issued this poster and that certain individuals were attempting to stir up trouble by spreading false information. No one should trust that claim, the Adipurush team proclaimed, and they pledged to uphold equality without regard to caste or religion.
మరింత సమాచారం తెలుసుకోండి: