Rahul Gandhi's disqualification is "own goal"...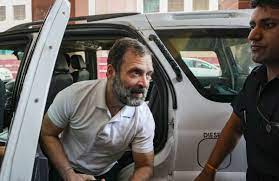 Rahul Gandhi, the head of the congress, has lost his seat in the Lok Sabha. rahul gandhi has lost his post because of a law in the Representation of the people Act. The issue of his disqualification has reached the supreme court on one hand, while on the other hand the opposition has mobilized against the central government. Veteran congress leader shashi tharoor has said that the action on rahul gandhi has been described as a self-goal of the bharatiya janata party (BJP).
Shashi Tharoor said, 'Ultimately only the opposition parties and rahul gandhi will benefit from this issue. This will have some unintended consequences for the BJP. Today there are headlines in every capital which has happened to rahul Gandhi. Secondly, the bjp has created a ground for opposition unity which was not there earlier.
What is the meaning of this statement of Shashi Tharoor?
The attitude of most of the opposition leaders is such that it is proving that Shashi Tharoor's statement is not wrong. Opposition leaders have united against the central government since the verdict against rahul Gandhi. people are raising questions on this decision given by the surat court.
Why is rahul gandhi disqualified?
His disqualification order will go into force on march 23 according to the lok sabha Secretariat's notification. Disqualified in accordance with Section 8 of the Representation of the people Act of 1951 and Article 102(1) of the Constitution.
మరింత సమాచారం తెలుసుకోండి: