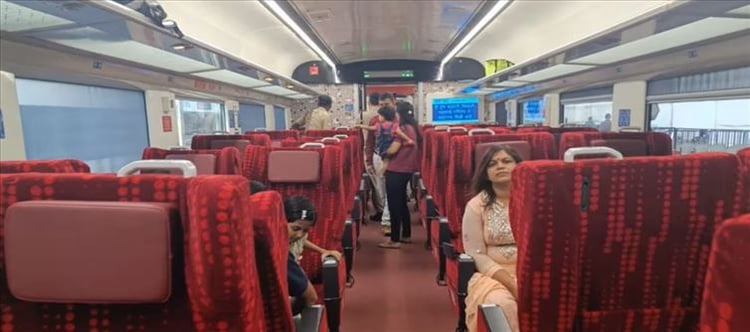 As per report Nellai-Chennai Vande Bharat train service has started. tamilisai, L. Murugan and Nayanar Nagendran were traveling in the train.
Tirunelveli-Chennai Vande Bharat train service of tamil Nadu's third Vande Bharat train started today. prime minister Narendra Modi inaugurated the train service through a video presentation. telangana governor tamilisai soundararajan, Union minister of State L. Murugan, assembly BJP Committee leader Nayanar Nagendran and others took part in the ceremony in tirunelveli and traveled by train. This train is operated to cover the distance of 660 kilometers between tirunelveli and chennai in 7 hours and 50 minutes. The train departs from tirunelveli at 6 am and stops at Virudhunagar, madurai, Dindigul, Trichy, Villupuram and tambaram stations and reaches chennai Egmore station at 1.50 pm. On the other way, it departs chennai Egmore at 2:50 PM and reaches tirunelveli at 10:40 PM. It has been announced that this train will not run on Tuesdays only.
The fare for this train with various special facilities has been fixed at Rs.1665. It is reported that the fare for traveling in the coach with executive chair car facility will be charged at Rs.3025. Being the first Vande Bharat train in South tamil Nadu, this train has received great response from the public. At tirunelveli railway station, a large number of public gathered and sent the train on its way. governor of telangana tamilisai traveled from tirunelveli to madurai in this train. Union minister L. Murugan will travel to Trichy and Nayanar Nagendran will travel to Chennai.
This train service between Nellai and chennai departs from tirunelveli every hour and is directed to Chennai. At various railway stations including Kovilpatti and Virudhunagar, public groups gave enthusiastic welcome to the train. It is reported that traveling by Vande Bharat train will reduce the travel time by two hours as compared to the trains that can be operated so far. Nine train services across the country like the Tirunelveli-Chennai Vande Bharat train have been inaugurated by the prime minister today and dedicated to the country.
మరింత సమాచారం తెలుసుకోండి: