Sidhu Moose Wala: Where 24 bullets were shot a year ago, Moosewala's mother reached there, started crying bitterly
It has been one year since the murder of Sidhu Moose Wala, but his parents and loved ones have not been able to emerge from this shock even today. Even today his mother starts crying bitterly remembering her son. The whole village is celebrating Sidhu's death anniversary today.


The death of punjabi singer and congress leader Sidhu Moosewala shook everyone. A year before today, his body was riddled with bullets (Sidhu Moose wala murder). His death was so painful that the listeners were shocked. Not one or two but more than two dozen bullets were fired in his body. One bullet was stuck in the bone of the head. Now on Sidhu's first death anniversary, his mother (Sidhu Moose wala mother) reached the place where Moosewala was shot dead. Remembering her son, she could not hold back her tears during this time.

Prayers were held on sunday on the occasion of the first death anniversary of punjabi singer-turned-politician Shubhdeep Singh alias Sidhu Musewala in Mansa district's jawahar village . His parents also reached in this. During this, mother Charan Kaur started crying bitterly remembering her son. She was shocked to see the bullet marks on the wall. She also bowed her head at the place where her son was shot and cried a lot remembering her son. Everyone present there looked emotional.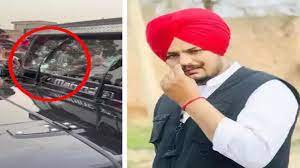 During this, Musewala's mother has appealed to her fans not to sing in the singer's voice as it hurts her. Although she feels good about the love and respect her son is getting. Charan Kaur said, 'On one hand we are saddened by the demise of our son and on the other hand we feel honored that Musewala has earned the respect and love of people across the world at such a young age.'



Singer Sidhu Musewala was shot dead on 29 May 2022. singer was going in his car when the assailants who came from behind in two vehicles fired indiscriminately at him. During this, dozens of bullets hit Sidhu's body and he died on the spot.

మరింత సమాచారం తెలుసుకోండి: