Amritpal Singh, on the Run From Cops - reached Delhi...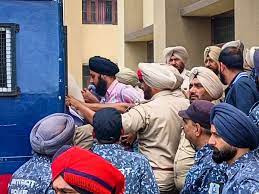 There are reports of Amritpal Singh, who absconded from punjab, reaching Delhi. Recently, the punjab police had claimed that Amritpal Singh, who absconded from punjab, has been seen in Haryana. Now there are reports that after getting inputs about Amritpal reaching delhi, the police of punjab and delhi are conducting a search operation at Kashmere Gate ISBT. It is being said that Amritpal may have taken the form of a monk to hide his identity.
According to sources, Amritpal Singh has secretly reached Delhi. The police is on alert as soon as the news of his arrival in delhi is received. delhi police and punjab police are jointly running a search operation and an alert has been issued on the borders of Delhi. There are intelligence inputs that Amritpal Singh may be hiding in the guise of a monk. A person named Papalpreet Singh is also traveling with him.
Police collected CCTV footage
Inputs were received that Amritpal has reached Kashmere Gate ISBT in Delhi. delhi and punjab police reached the bus stand and returned after collecting CCTV footage. Baljeer, the woman who gave shelter to Amritpal, who reached haryana recently, had told that she did not know Amritpal but knew Papalpreet. She also said that she recognized Amritpal after he removed his mask.
మరింత సమాచారం తెలుసుకోండి: