Why prabhas is neglecting UV Creations..!?

Prabhas, who has earned a star image for himself as Pan India's number one star, continues to create huge expectations no matter what kind of movie he starts. It must be said that no hero is currently setting up as many big films as he has lined up. It is understood that prabhas, who is creating the market more than anyone else, is going to give more surprises in the coming days. But prabhas, who has been involving uv creations in some way in his movies since Mirchi, now seems to be keeping his friends aside. There was a talk that uv creations had also acquired the rights to Adipurush's movie AP nijam earlier. There were reports that the deal was set for around 100 crores.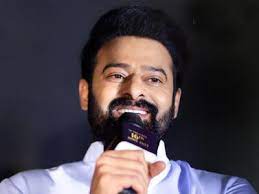 But now it seems that prabhas People's media Factory has given them the rights of telugu states by excluding them. The talk is that the rights have been sold in the range of around 170 crores. Currently, prabhas is doing a maruti movie under their production. However, it seems that prabhas has left UV in the case of Spirit movies as well.
Prabhas will start the film Spirit directed by sandeep Reddy later this year. But uv creations also wanted to produce this movie along with T Series. But now prabhas is ditching uv creations here as well and giving People's media Factory another chance. prabhas took this decision as their combination seemed well set. At present, however, it seems that there is no film in the uv creations prabhas combination. Let's see what kind of decision prabhas takes for his friends in the coming days. Project K is coming as a pan-world movie under vyjayanthi production on the prabhas line.

మరింత సమాచారం తెలుసుకోండి: