Fatman's Divorce in less than a year..!?

Mahalakshmi, famous for her small-screen serials, got married to producer Ravinder last year. Their wedding which took place in september caused a huge uproar in the screen space. After that, the couple's interviews went viral on all channels. Not only that, wherever the couple went and whatever they did, it was in the media. Similarly, now one thing is creating a stir. In other words, the news has been coming out for the past few days that the couple is going to get a divorce within a year of their marriage.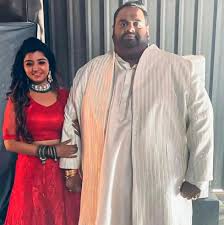 Because Ravinder had recently posted a photo of himself alone on his social media. Mahalakshmi, who is always the first person to like and comment on Ravinder's posts, did not show any reaction to this. Seeing this, many people started saying that they have separated. After that, both of them were trending again. Already Vijay tv couple vishnu and Samyukta have separated within a month of their marriage. It is their family panchayat that is causing a stir now. In this case, the divorce news of the Ravinder and Mahalakshmi couple also started to explode. Following this, Mahalakshmi put an end to these rumors by putting a post on her social media page. In that post, she said, How many times has she told not to post a picture of himself alone? Now the news is coming out that they have separated. He has posted that if he does this mistake, he will have to eat her Semiya Upuma. She has also mentioned playfully that they are now trending. With this, she has put an end to this divorce and shut everyone's mouth.
మరింత సమాచారం తెలుసుకోండి: