Since telugu desam party and Powerstar pawan kalyan declared his collaboration with the janasena Party, it has come to light that not only would he run an aggressive campaign, but he will also complete his film Ustaad Bhagat Singh. This gave the impression that harish shankar would finish Ustaad quickly, and some fans believe that if the movie is being done at such a breakneck pace, the quality would suffer.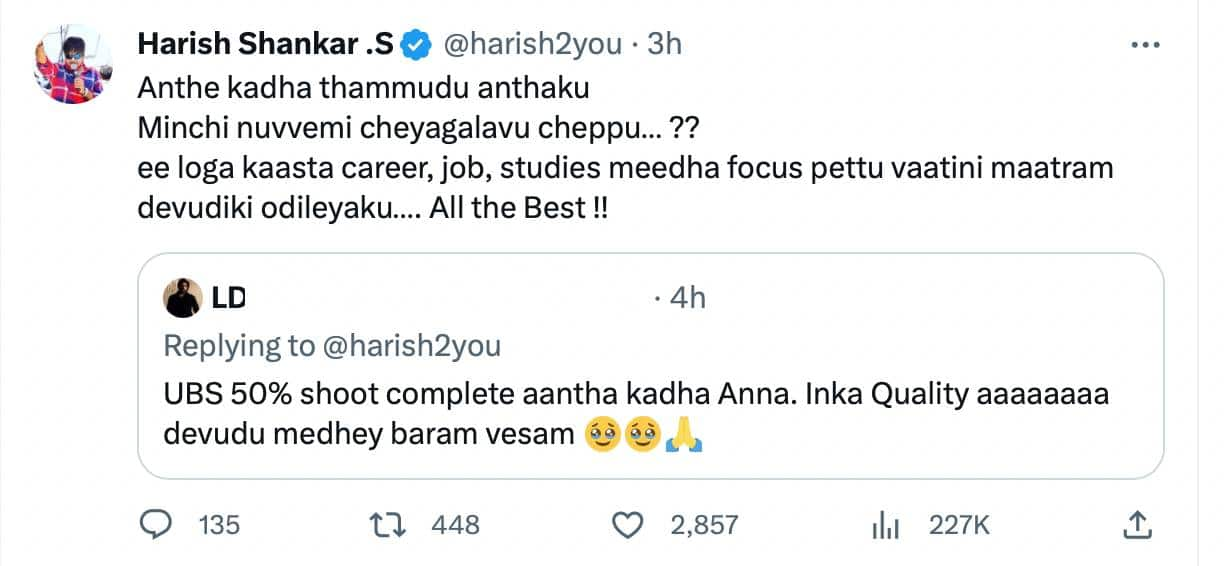 Unhappy with the film's production value, a fan tagged harish shankar on 'X' to report that 50% of Ustaad Bhagat Singh's filming had been completed. He remarked, "Inka quality aah devudu medhey baram vesam," implying that they are concerned about the film's calibre. In response, harish shankar posed the question, "What can you do about the quality of the film other than thinking like this?," and launched a satirical dig at him, suggesting that the fan should put more of his attention into his academics, profession, and employment rather than blaming god for it.

Of course, Harish is renowned for his biting sarcasm and statements like these on social media, and anytime he does that, it will be right on the target, but sometimes it stings. This time, he is much more caustic than usual, and his answer demonstrates how assured he is of the success of the film.



మరింత సమాచారం తెలుసుకోండి: