Suresh Raina arrived in chennai prior to the 2023 IPL...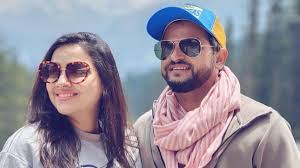 Cricketer suresh raina no longer plays for CSK in IPL but still fans were fond of him in Chennai. Proof of this is a video. suresh raina has been associated with chennai Super Kings (CSK) for a long time and he is one of the biggest match-winners of IPL. Although now Raina has retired and will not be seen in CSK jersey in IPL this year. Despite this, even today the craze for him has not diminished in Chennai. Raina has shared a video from his socialmedia account in which he is singing the song and a huge crowd has gathered to see him.
Chennai fans gathered for suresh Raina
Suresh Raina may have retired from cricket now but it is certain that his fans are present in large numbers in Chennai. He has shared a video in which a large number of fans have come to listen to his song. Raina's song Bitiya became very popular a few years ago.
CSK fans have become emotional after watching this video and are writing in the comments that they will miss him a lot this season.
Some fans of chennai Super Kings call him Thala and after this song he is again remembering the days of CSK and Raina.
మరింత సమాచారం తెలుసుకోండి: