So many problems in railways? "Kavach" technology a failure?

The tragic accident in odisha has brought to light various deficiencies in the railway sector. More than 230 people have died in the collision of 3 trains in Odisha's Balasore area. More than 900 people were hospitalized with injuries. It has become one of the worst train accidents in india in the last 100 years. In this case, various defects in the railway industry are the main cause of these accidents, which have shocked the public. In this regard, Ilango from the Southern Railway Employees Union has released various information. Accordingly, the trackman did not provide any information regarding the overturning of the first coach. Based on the information given by the track man, other trains coming on a particular route will be halted from place to place. The particular trackman should stop another train coming that way by giving a red signal. About 4,500 km of railway tracks are damaged every year. But only the tracks of 2500 to 3000 km are being repaired. According to a 2018 report by the Central Government, track repair works of up to 11,000 km are pending. An average of 200 signals break down per year. Only 100 of them are being replaced. Not much emphasis is given to the immediate repair work of tracks and signals. Lack of proper communication is also the main cause of this accident.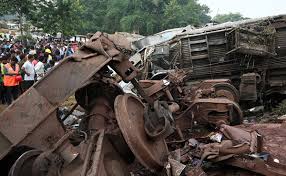 What happened to "Kavach" technology?
Meanwhile, to prevent train collisions and accidents, an indigenously developed technology called "Kavach" was introduced in the railway sector last year. This safety feature, installed between the tracks, is capable of shutting down the engines of the two trains about 400 meters in advance in the event of an accident between two trains traveling in opposite directions. When the red light signal flashes, the train engine is shut down with the help of a gacha, even if the train driver is negligent.
It also has various facilities including automatically reducing the speed of the train when connecting lines intersect. Late last year, the Railway Board approved the installation of Gavach technology on 34,000 kilometers of railway tracks to avoid train accidents on the country's busiest and most frequently used railway lines. However, the railway department has informed us that no safety features have been installed on the track where this bad train accident took place in Odisha. Perhaps if that technology had come into use, this tragic accident could have been prevented.

మరింత సమాచారం తెలుసుకోండి: