Historic Moment!!PM Modi Installs Historic 'Sengol'!!!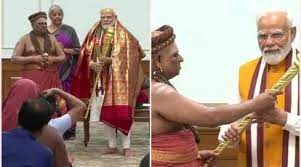 The 'Sengol' was installed by prime minister Narendra Modi in the brand-new parliament structure. When Modi entered the grounds of the parliament, he presented mahatma gandhi with floral tributes. He then took part in the pooja for the opening of the new structure alongside lok sabha Speaker Om Birla.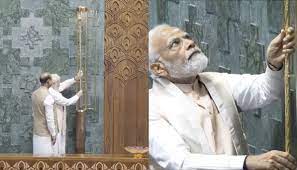 Several Opposition parties boycotted today's inauguration of the new parliament building, insisting that President Draupadi Murmu, who serves as the head of state, should perform the honours. prime minister Narendra Modi nonetheless began the ceremony. Modern technology is featured in the new structure.
On the eve of the opening of the brand-new parliament building, PM met with Adheenams (priests), who gave him the sacred sceptre, "Sengol," earlier on Saturday. PM Modi said he felt extremely fortunate to welcome the priests to his home after meeting the Adheenams. "It feels grateful that I had gotten the chance to welcome the esteemed Adheenams to my home," wrote PM Modi in his post.
The Adheenams of Dharmapuram and Thiruvavaduthurai arrived in the capital earlier in the day. The historical and revered "Sengol" will be erected in the parliament house by prime minister Narendra Modi at the opening of the new parliament building on Sunday.
Up to 21 Adheenams had already flown from chennai to delhi to take part in the ritual. According to home minister amit shah, the sacred sceptre "Sengol" represents the handover of power from the british to India. He asserted that the parliament house is the most appropriate and venerated place for the historic "Sengol" to be installed. Sengol has been designated as the Amrit Kaal's official national symbol by PM Modi.
మరింత సమాచారం తెలుసుకోండి: