Is this the reason why surya bought a house in Mumbai..?

Suriya has bought a house in mumbai which has been buzzing for the past few days. It means that it is common for celebrities related to cinema to buy property in many places. But why Surya's purchase is being talked about so much because he bought it in Mumbai? Because there is confusion among fans about whether Suriya is settling down in Jyothika's hometown Mumbai. And there is a talk that the luxury house is worth 70 crores. In this case, Jyotika is the reason why surya bought a house in Mumbai.


That is, the death of Ajith's father Subramanian recently shocked the fans. But now it is known that Ajith's father was suffering from ill health for four years. The same situation happened to Jyotika's parents. It means that one of Jyothika's mother or father is unwell. jyothika is staying in mumbai to take care of him. Surya's family has also decided that the children's studies can be done in Mumbai.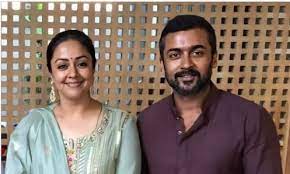 That is why surya has now bought a house in Mumbai. Also, there is information from Suriya's close circle that he is temporarily in mumbai and has bought a house as an asset. Also, Suriya is currently acting in Suriya 42 directed by Siruthai Siva. The film is being released on the occasion of the upcoming pongal festival while the shooting is going on in full swing. Similarly, jyothika is also acting in a few films. Apart from that, jyothika is going to make a re-entry into bollywood after many years.
మరింత సమాచారం తెలుసుకోండి: