Rahul gandhi Disqualified: priyanka challenged the Govt - P3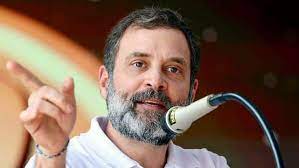 Rahul attacked the thieves
According to congress President mallikarjun Kharge, it has no bearing on any community whether or not people like Lalit Modi, Nirav Modi, and Vijay Mallya came from a lower class. These people are giving off the impression that rahul gandhi has mentioned the underdeveloped community.
Punishment for being called a thief
Rahul Gandhi's supporter ysr reddy argued that rahul gandhi was ineligible to serve as a lok sabha mp because he referred to Nirav Modi, Lalit Modi, and Vijay Mallya as thieves. I want to convey my extreme worry and displeasure with this choice.
Kejriwal called the action on rahul a dictatorship
Arvind Kejriwal, the chief minister of Delhi, has also posted in favour of rahul Gandhi. He tweeted and published a video saying that the current state of the nation is extremely dangerous. These individuals want to establish a one-nation, one-party system, which is known as dictatorship, and they intend to do this by eradicating the alternative. I'm making a plea to my fellow citizens, saying that we must unite, save democracy, and protect the nation.
Why did rahul gandhi lose his membership?
A member of parliament is disqualified if, in accordance with the law, they are found guilty of a crime and receive a punishment of two years or longer. The unique aspect of this rule is that it prohibits leaders from running for office before their first year as members. From a political standpoint, this rule poses a significant threat to rahul Gandhi.
మరింత సమాచారం తెలుసుకోండి: