Can prabhas keep up his promise..!?

Young rebel star Prabhas' Adipurush movie is getting ready for release on june 16. The pre-release event of this movie was grand in Tirupati. At this event, prabhas said that he will do two to three films a year. Let's make more movies. Let's talk less, he said to the fans. In this background, it is heard that prabhas has said this with clear clarity about the films he is currently doing. If you look at the lineup of his films, it is clear that prabhas is planning correctly. prabhas Adipurush's movie is coming on june 16. Also, on september 28, the movie Salaar directed by prashant Neel is going to release.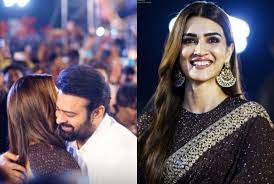 Prabhas has planned the release of these two films for this year. Next year, the Project K movie will be released in the pan-world range on january 12. There are high expectations for this. Also, the raja Deluxe movie directed by maruti is getting ready to entertain the audience next year as a summer gift. Two films are planned for 2024. In the same line, there is a talk that Salaar 2 under the direction of Hanu Raghavapudi has been finalized in Mythri movie Makers. There is a chance that these two films will be released by prabhas in 2025. It should be said that it is really remarkable that prabhas is planning the release of not less than two movies a year, even if it is a Pan India-level movie.
A huge hype has been created all over the country about the Adipurush movie which is going to be released in the next 10 days. It can be said that the upcoming film is based on the story of Ramayanam and the fact that the trailers of the film are also impressive is the reason for the increase in expectations about Adipurush.

మరింత సమాచారం తెలుసుకోండి: