Is Dhanush's film actress pregnant before marriage..!?

Famous bollywood actress swara bhaskar got married in february this year. Now the news that she has given birth to a child has been revealed and wishes are pouring in among fans. Dhanush's first bollywood film 'Ranchana' featured swara bhaskar as the second female lead. She has revealed the news that she has a baby girl now through social media.
 She named his child Raabiyaa. Actress swara bhaskar has been in love with Samajwadi party youth leader Fahad ahmed for a long time... They got married last February. Then their wedding reception was very grand. Following this, while swara bhaskar announced her pregnancy in june by posting a photo, she herself released the news that swara bhaskar had given birth to a beautiful baby girl on social media. swara bhaskar has been married for just 7 months...as the child is born, was Swara pregnant before marriage?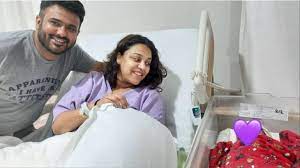 netizens are asking questions. However, it is worth noting that some are saying that this is not new in the bollywood industry. It is also doubted whether the baby is born early, like within 7 months. But this is all so easy in the bollywood industry.
మరింత సమాచారం తెలుసుకోండి: