Vijay's father in Ajith's film..!? Is this true..!?


Ajith's Vidamuyarchi has been announced but the shooting has been delayed due to some reasons. In that way, the information has been released that the shooting will definitely start on october 4. And the crew is preparing for this. Lately, the films of big actors have been featuring other language actors in cameo appearances.
Especially in Jailer, actors like Mohan Lal, Shivraj Kumar, and jackie shroff acted. bollywood actor sanjay dutt has also acted in Vijay's Leo. In this context, it is expected that actors from other languages will act in the movie Vidamuyarchi. Recently, information was leaked that reel Vijay's father will be appearing in the film Vidamuyarchi. malayalam actor mohanlal played the role of Vijay's father in Jilla. Recently, mohanlal and Ajith's photos have surfaced on the internet. After this, it was reported that Mohan Lal was going to act in the movie Vidamuyarchi. But it is now clear that it was completely a rumor.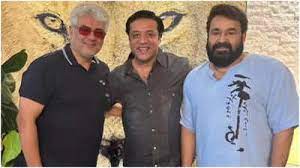 That is Ajith's close friend ajith Nambiyar. His birthday was celebrated recently. The event is taking place at the famous Hilton Hotel in Chennai. Fans took photos with ajith when he attended the event. mohanlal has come to that hotel. That's when both of them talked and took a picture. After seeing this, the fans spread the news that mohanlal is appearing in the film Vidamuyarchi. Even though mohanlal is not featured in the film, the shooting of Vidamuyarchi will start soon, which is a relief to ajith fans.
మరింత సమాచారం తెలుసుకోండి: