Ongoing tension between india and China...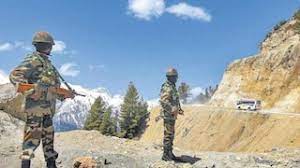 There is no possibility of resolving the border dispute between india and China. Ladakh is becoming a Kurukshetra between the two armies. china is continuously building in the border areas adjacent to Ladakh. china is continuously strengthening the position of its army in the border areas. Due to permanent constructions, China's position is getting stronger on the Ladakh border. This has been revealed in a new report by Reuters.
This Reuters report is allegedly based on a confidential research paper of the Ladakh Police. This report has been prepared keeping in mind those areas where there is no barricade and where security has always been a challenge for the security forces. The Intelligence Bureau (IB) had held an important meeting on this matter between 20 and 22 January, in which home minister amit shah and prime minister Narendra Modi have also participated.
Military conflict will increase in Ladakh
The local police is active on the Ladakh border. According to intelligence information, the activities that are coming to the fore so far, the skirmishes between the two countries may increase in the coming days. The conflict between the two countries is going to increase further in Ladakh. In 2020, at least 24 soldiers were killed in a clash between indian and Chinese soldiers in Ladakh but tensions eased after military and diplomatic talks. There was a fresh clash between the two sides in Arunachal Pradesh in December, but there were no casualties. The border situation is constantly indicating that the conflict between china and india may intensify.
మరింత సమాచారం తెలుసుకోండి: